Backstage at the festival
Take a behind-the-scenes look at the 9th edition of the festival ÉCHO À VENIR through the words of Pablo Gracias Anton Bdvs Marie Laverda d'Organphantom Prod
Thanks to Sarah Trouche TV7 SudOuest.fr for the interview
Watch the interview on sudouest.fr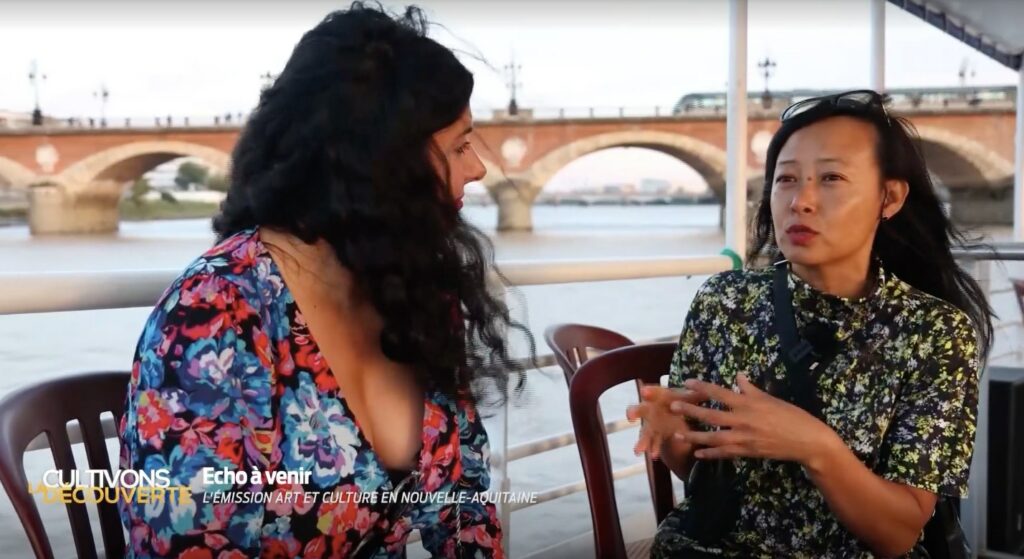 with :
DJ Pierre RP Boo Paulinhx Martin Messier Joanie Lemercier Juliette Bibasse Fruckie Wefine Thomas M. Burns MstrV1 Madina Querre DavidCarroll Denys Zhdanov Baron Zilief
Romain OO Toine Bobo Loic Lecocq David Cappellazzo Tiyani Traore-Bastida Livy Cameron Sibylle Courtel Romain Boubou James Supertramp Stanley Lubrick Kenny Damien Gilles Ventura Adrien Erzulie , Pépita Tristesse, Estelle Guidet, Ingrid Polonyi Anna Dx Nolwenn Aïe Elise Marchal Elise Rochet Alix Yilmaz Méline Maquart Mathieu Pelletier Michel-ange Pelletier Baaz Tournier Audibert françoiseSiegel Bulthé-Maingard Lou Camille Girard Tuturtutut Marie Juliette De Bazades Maureen Decussy Coralie Marucci MÔssieur POis René Collin Jamie BP Piers Coolhandpud
Audiopro / Novelty / Croisières Burdigala / Carte jeune Bordeaux Métropole / Bordeaux Métropole / PXL CREW / Café de Paris / Cordier / DICE / Biotope Festival / arc en rêve centre d'architecture / Trax Magazine / Junkpage / Resident Advisor / LE TYPE / Le Protocole Radio / Pioche / Médias-Cité / Maitika / TRANS – SHIRT Bordeaux/ Bordeaux culture / Transpalux Angoulême
Thank you !
It was just incredible! We are just recovering from these 4 exceptional days spent with you!
The entire Organ'Phantom team would like to thank you for your energy, your curiosity, your kindness and your loyalty.
Thank you to the artists, partners, technicians, volunteers and the whole Organ'Phantom team who made this success possible and who made this 9th edition a magical reunion!
Artists : RP Boo DJ Pierre, Pablo Gracias,Anton Bdvs Martin Messier Studio Joanie Lemercier Juliette Bibasse, FruckiemThomas M. Burns MstrV
Partners : EPSON / AUDIOPRO / NOVELTY / Croisières Burdigala / Bordeaux Métropole / PXL Crew / Café de Paris / Cordier / Carte jeune / DICE / Biotope Festival / arc en rêve / Trax Magazine / Junkpage / Resident Advisor / Le Type / le protocole radio / Pioche! / Médias-cité / Maitika / Trans-Shirt / Bordeaux culture / TV7 / Sud-Ouest
Speakers : Madina Querre David Caroll
Cruise : Christophe and Robin
The team and volunteers : Marie Laverda Romain OO, Toine Bobo Loic Lecocq, Cappellazzo, Tiyani Traore-Bastida, Livy Cameron Sibylle Courtel, Romain Boubou, James Supertramp, Stanley Lubrick Kenny Damien Gilles, Adrien Péré,Venturalie Cabrit, Pepita Tristesse, Estelle Gdt, Ingrid Polonyi, Anna Noaz, Nolwenn Aïee Marchal, Elise Rochet, Alix Yilmaz, Méline Maquart Mathieu, Michel Ange Pelletier, Françoise Siegel, Baaz Tournier Audibert, Bulthé-Maingard Lou, Camille Girard, Tutur Tutu Juliette De Bazades, Lola Gauthier, Maureen Decussy, Coralie Marcucci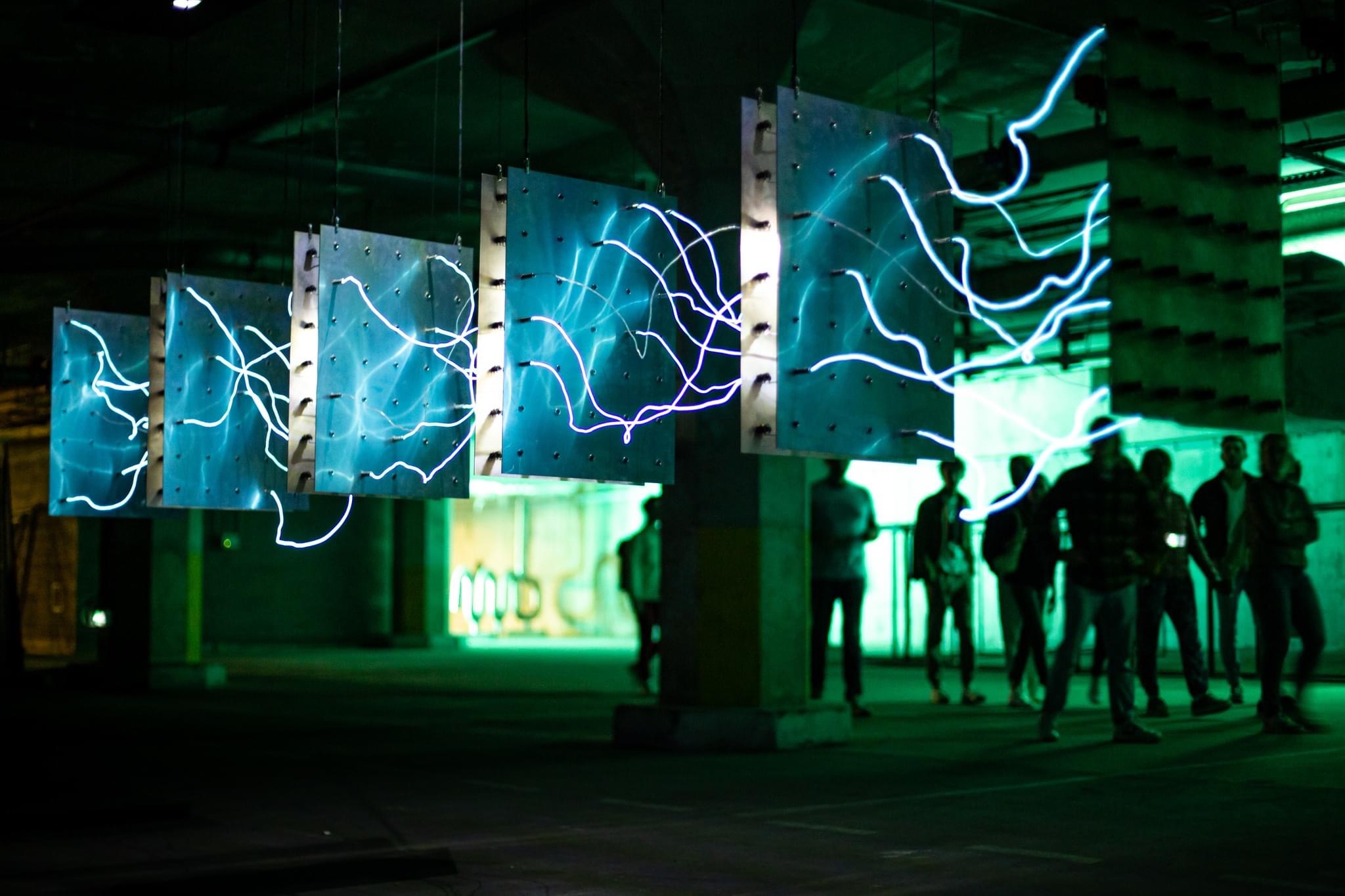 To the flames of the world, art responds with commitment.
From one bank to the other, from the echoes of a militant past to the struggles for the future,
EAV 2022 celebrates these fighting hearts.
An installation, a film, a curation, a vernissage in partnership, a monumental video projection, a fun cruise and a historic dancefloor to go back to the roots of the Chicago music scene, all over Bordeaux, EAV 2022 criss-crosses the city and builds festive bridges towards these burning issues of the fights for the environment, the rights of all and shared culture.
🖊️ Baron Zilief
For the 9th edition of the Écho À Venir festival, Organ'Phantom unveils a programme that integrates digital art and electronic music in the heart of the city. It is at the crossroads between the futuristic aspects that influence our artistic vision and the highlighting of emblematic places of Bordeaux, that Echo À Venir will be the red thread of a contemporary epic, accessible to all, turned towards art and commitment.
– Original creations –
– Vidéo mapping –
– DJ & VJ sets –
– Musical cruise –
– Exhibition –
– Film –
– Meetings –